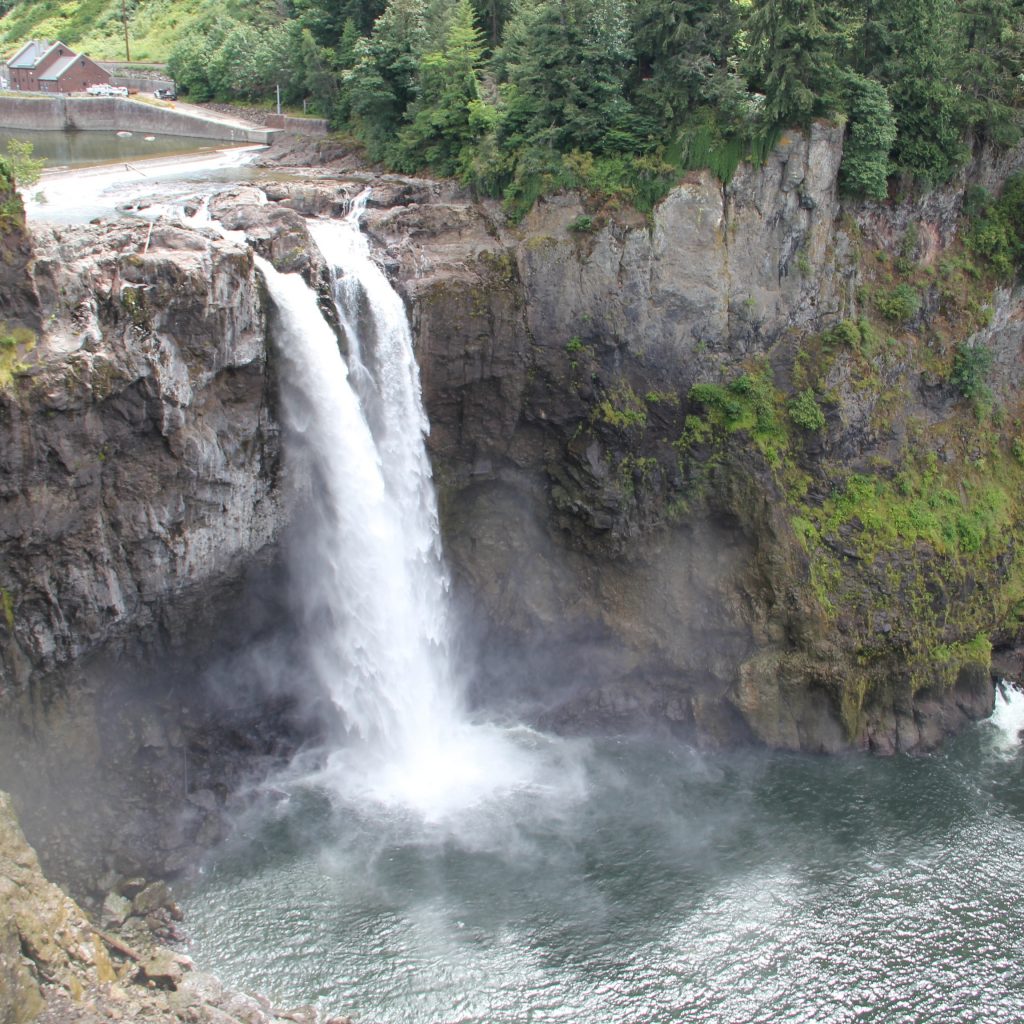 Visit Snoqualmie Falls
Looking for a family day trip? Consider visiting Washington state's most famous waterfall! Snoqualmie Falls tumbles down 268 feet with its width ranging from 50 to 150 feet, depending on water levels. After heavy rains, the roaring cascade takes on a curtain form that is a dramatic sight to behold.
The falls can be viewed from the lovely two-acre park which offers a gift shop, observation deck, the Salish Lodge, picnic areas, restrooms and a hiking trail.
Observation Deck
The upper observation platform provides the best view of the falls and is wheelchair accessible. This is a must-stop spot for your family photo-op or selfie! The deck is sheltered, free, and open to the public from dawn until dusk.
Trail to the Base of the Falls
Visitors can hike from the parking lot to the misty boardwalk near the base of the falls. The trail descends 1.3 miles through forested land to a powerhouse and a lower observation deck. Hikers can look through the windows of the powerhouse to view the turbines generating hydroelectric power for Puget Sound Energy. The trail includes interpretive signs introducing native wildlife and vegetation. A few sections of the trail are steep and provide a short challenge on the way back up the hill. It is a great introduction to the region for beginning hikers.
Salish Lodge
Salish Lodge & Spa has been ranked among the best small resorts in the world. This delightful Pacific Northwest lodge overlooks Snoqualmie Falls and offers lodging, spa services, and award-winning fine dining. For more information on this getaway resort visit www.salishlodge.com.
Bring the Family Dog
Ten Trails residents will discover that this gem is only 23 miles from home. Parking is free and dogs on a leash are allowed on the trail and lookouts. Winter is a great time to visit this iconic destination because water flow is often high, resulting in a dramatic display of nature's power. Put this one-of-a-kind day trip on your calendar soon!